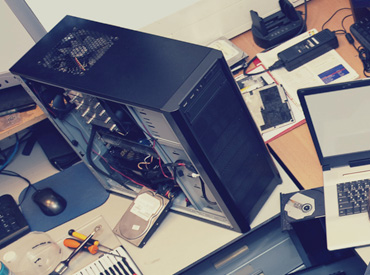 About Us
Your Delaware Computer Repair and Service Resource



Years of experience and a customer-first attitude makes GeekyTek one of Sussex County's premier computer repair and service companies.
A trusted computer repair resource, GeekyTek services all brands and models – whether it's your home PC or a new laptop that you need looked at, the GeekyTek team has the tools and talent to oblige.
But GeekyTek is more than just your average computer repair shop – we also offer complete computer and network service assistance. Our staff can help you install and upgrade your hardware and software, set up a wireless network and router, eliminate viruses and malware from your computer and much more.
Better yet, GeekyTek understands that time is money – and that's why we offer our services to local businesses around the clock, 24/7. When you have a computer repair or Delaware IT emergency, GeekyTek is the company you can count on to be there for you.
For more information, be sure to check out our services page now. If you have any questions, be sure to contact us today.
Three reasons why you should choose us
1
WE OFFER FIRST CLASS CUSTOMER SERVICE
What makes us different from other local IT support companies is that we are dedicated to delivering customer satisfaction.
2
WE OFFER VALUE FOR MONEY
We are confident that we provide the Superior value IT support service in Delaware. We provide support on either a Pay As You Go basis or Monthly Support Contract
3
WE EMPLOY EXCELLENT PEOPLE
All our staff have been highly trained with the necessary qualifications to be able to work with the highest standard we set for our services.